Members must be signed in to access discounts. For instructions click here.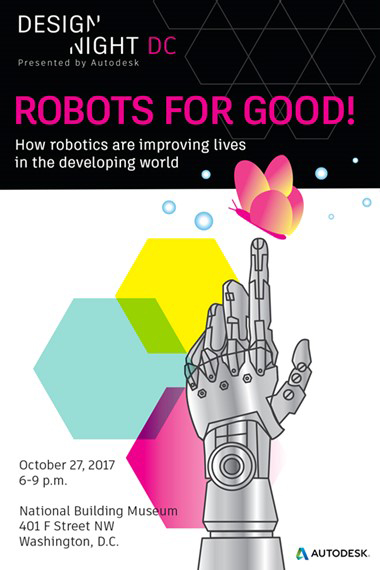 From urbanization and climate change, to displacement and social equity, some of this century's most important issues are attracting design professionals with a desire to leverage their training and experience to create social changes. The two-day Impact Design Summit will explore how designers can affect society by creating economic, environmental, educational, social health impacts, and how design can be the driver for positive systemic change.
Autodesk Design Night DC
Design Night DC kicks off the Impact Design Summit, a symposium on design and social impact hosted by the Virginia Tech School of Architecture + Design, Center for Design Research that continues Saturday.
At every Design Night, we take a theme—both new and unexpected—and celebrate how technology is transforming that industry. For Design Night DC, we'll celebrate "Robots for Good!" Design Night DC promises networking, delicious food, music and fun activities that bring robotics to life.
Today, robots are used for everything from building cars to cleaning your carpets, to fighting cancer. The use of robotics for social good is still new and relatively untapped in developing countries. We'll explore how robotics are being used to accelerate the impact of humanitarian aid, global development and environmental protection efforts across multiple social good sectors.
Hear from Patrick Meier, cofounder of WeRobotics, the first global platform to promote and support the development of robotics for social good.
$15 Museum Member | FREE Student | $25 Non-member. Space is limited.
Tickets are non-refundable and non-transferable. Online registration for Museum programs closes at midnight the day before the scheduled program.
Learn more about the Impact Design Summit, a symposium on design and social impact, hosted by the National Building Museum and the Virginia Tech Center for Design Research with support of the Autodesk Foundation.
Register for both the Autodesk Design Night DC on Friday, October 27 and the Symposium on Saturday, October 28.