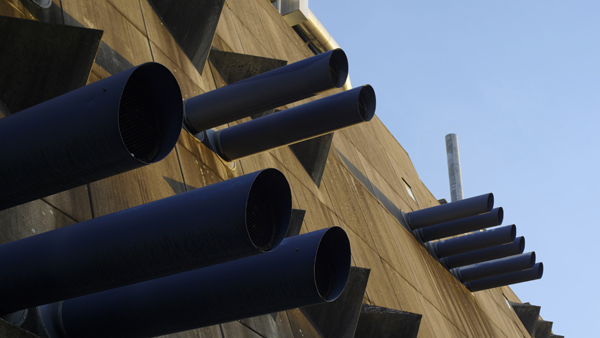 ONLINE REGISTRATION FOR THIS EVENT HAS ENDED BUT TICKETS WILL BE AVAILABLE FOR SALE AT THE DOOR STARTING AT 5:30 PM.
Battleship Berlin
2021 / 40 min / Germany
Director: Nathan Eddy
Berlin's brutalist architectural heritage is under fire in this documentary film. The city's powerful Charité Hospital wants to destroy a brutalist icon of the Cold War era -- the infamous former animal research laboratory called the Mäusebunker. A dedicated group of politicians, preservationists, architects, gallerists and students fight for an adaptive re-use of this magnificent, uncompromisingly unique structure.
Shown with:

What Does It Take to Make A Building?
2021 / 27 min / United Kingdom
Director: Jim Stephenson
An intimate portrait of architect Sarah Wigglesworth's life and her mission to use her work as a vehicle for social change. Through her conversations with fellow architect Piers Taylor, Sarah discusses her architectural education -- which was dominated by men and almost led her to quit the industry before graduation. The conversations continue to discuss the experimental home and studio she designed and built with her partner Jeremy Till.
Get the Flex Pass to see as many of the films throughout the festival as you'd like, without having to register for each screening.
Learn more here.
The National Building Museum is prioritizing the health and safety of our guests, speakers, staff, and volunteers. We are requiring that all of our guests wear masks. Further, by registering to attend this program in person, you attest that you have been fully vaccinated against COVID-19 or have received a negative COVID-19 test within the previous three days. Thank you for helping us slow the spread of COVID-19.