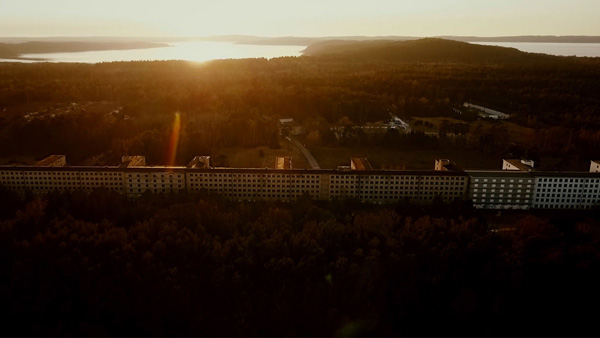 ONLINE REGISTRATION FOR THIS EVENT HAS ENDED BUT TICKETS WILL BE AVAILABLE FOR SALE AT THE DOOR STARTING AT 11 AM
Inside Prora
2019 / 100 min / Germany
Director: Nico Weber
Commissioned by Adolph Hitler prior to World War II, Prora is the longest building in the world and has been referred to as the "Monster by the Sea" and the "Colossus of Prora". Conceived as a three-mile-long vacation camp, it was converted to military barracks during WWII, and then was abandoned following Germany's reunification. Now, hotels, museums and holiday homes are springing up -- an unlikely triumph of Capitalism. Inside Prora details the unfolding layers of history to reveal unexpected connections of society with modernist architecture and mass tourism.
Shown with:

Moving Barcelona
2021 / 6:21 / United Kingdom
Director: Jevan Chowdhury

Moving Barcelona is a magical realist dance story about this Catalonian capital, an autonomous region in Spain contending with an identity crisis. A beautiful and bustling city, Barcelona is haunted by ghosts of its past, and despite much progress, still finds itself unearthing old wounds. Barcelonians, in pursuit of happiness, find themselves on a treadmill in a tale of modern day life. Narrated by celebrated actor Pep Munné, there is a sense of reassurance that all is okay and inevitably, things are the way they are.
Get the Flex Pass to see as many of the films throughout the festival as you'd like, without having to register for each screening.
Learn more here.
The National Building Museum is prioritizing the health and safety of our guests, speakers, staff, and volunteers. We are requiring that all of our guests wear masks. Further, by registering to attend this program in person, you attest that you have been fully vaccinated against COVID-19 or have received a negative COVID-19 test within the previous three days. Thank you for helping us slow the spread of COVID-19.