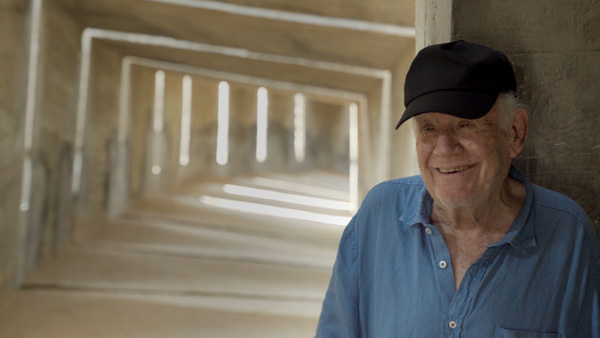 ONLINE REGISTRATION FOR THIS EVENT HAS ENDED BUT TICKETS WILL BE AVAILABLE FOR SALE AT THE DOOR STARTING AT 5:30 PM.
High Maintenance - The Life and Work of Dani Karavan
2020 / 66 min / Israel
Director: Barak Heymann
Award-winning Israeli artist Dani Karavan has created nearly 100 environmental installations around the world. Despite his renown, Karavan is far from satisfied. The film details how the architect becomes embroiled in a serious political and artistic conflict over his latest commission -- a monument to Polish nationals who have risked their lives saving Jews during World War II.
Shown with:

Small Town Big Canvas: An Indiana, PA Story
2021 / 26 min / USA
Director: Bradford Devins
Dripped On The Road, a traveling artist residency program, paints 14 murals in 2 weeks in Indiana, Pennsylvania during the Covid-19 pandemic. The project transforms the town's visual landscape while paying homage to its local history and focusing on creative sustainability. The town accepts four artists and three program directors with open, socially-distant arms, creating a heart-warming and quirky story that demonstrates the importance, power and impact of public art and community identity. In a time of crisis, uncertainty and division, the arts are a catalyst for breaking down barriers and uniting people from all walks of life.

$12 Museum Member / $5 Student / $15 Non-member
Get the Flex Pass to see as many of the films throughout the festival as you'd like, without having to register for each screening.
Learn more here.
See the full Festival film schedule here.
The National Building Museum is prioritizing the health and safety of our guests, speakers, staff, and volunteers. We are requiring that all of our guests wear masks. Further, by registering to attend this program in person, you attest that you have been fully vaccinated against COVID-19 or have received a negative COVID-19 test within the previous three days. Thank you for helping us slow the spread of COVID-19.